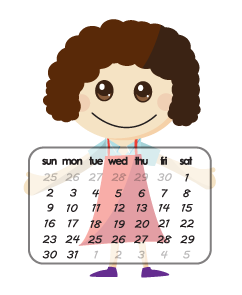 2016 - 2017 School Calendar
MILESTONE
MONTESSORI
670 Newark Pompton Turnpike Pompton Plains, NJ 07444 973-835-8026
Milestone Montessori
School Calendar 2016-2017
         September 6th - School Opens for regular session
         September 15th - Back to School Night
         November 23rd - Thanksgiving Feast Day
         November 24th - Thanksgiving School closed
         November 25th - Black Friday School closed
         December 24-Jan 2 - Winter break School closed
         January 3rd - School reopens
         February 20th - Presidents day
         April 14th - Good Friday
         May 29th - Memorial Day
         June TBA - Graduation Day 3 (Graduates Only 12:00 dismissal)
         June 22nd - Last day of regular session
         June 26th - Summer program begins
 Special events may occur during the year when it may be necessary to close school or possibly early for weather related events.
 We ask for your understanding and cooperation.
Parents: Tuition is based on 40 total weeks of attendance per school year (does not include Summer Enrichment) and is split into 10 monthly payments. There are 3 months in the school year with 5 weeks in them, which we do not charge extra tuition for. These 3 weeks are used for Winter break and any school closing that may occur throughout the year.